Gas/Oil Fired Steam/Hot Water Fire Tube Boilers. The WNS series is a complete range fire tube boilers from 1MW through to 13MW. The WNS series boiler is available for either a steam or hot water applications and are fired on either gas or oil.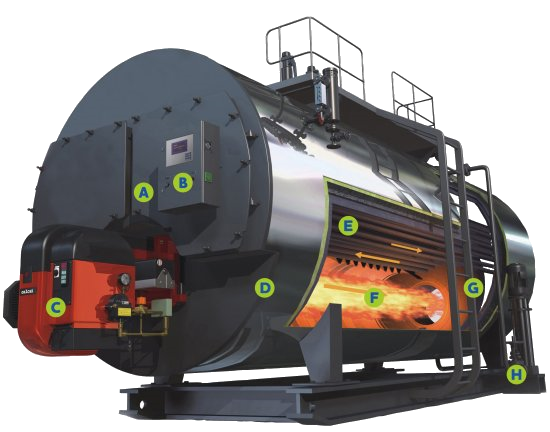 These boilers are supplied as a complete turn-key package including burner, feed water pumps and control system. The WNS series is a modern three pass boiler design right from the smallest through to the largest in the range. The WNS series boilers are built to the highest quality standards and provide the highest efficiency available of any boiler design. The WNS series boiler is fitted with a high quality European burner using the latest digital air/fuel ratio control system. Gas, oil and dual fuel options are available as standard. Flue gas oxygen trim and burner fan VSD options are available through the entire range. These burner offer the highest efficiency and reliability available anywhere in the world.
The boiler is supplied complete with an approved unattended control system built around a user friendly touch screen interface. Clean graphics and simple intuitive layout ensure the control system is easy to navigate and operate.
Flue gas economisers and flue gas condensers are available across the entire WNS boiler range.  These maximise efficiency. We have customers running with flue gas temperatures on 13,000kW boilers as low as 40 Degrees Celsius.  These improvements could lower your operating costs by as much as 10%.
Ten Key Reasons Why You Should Choose An WNS Series Boiler