A high-pressure boiler supplied and installed by Energy Plant Solutions is helping one dairy firm save money with better use of energy.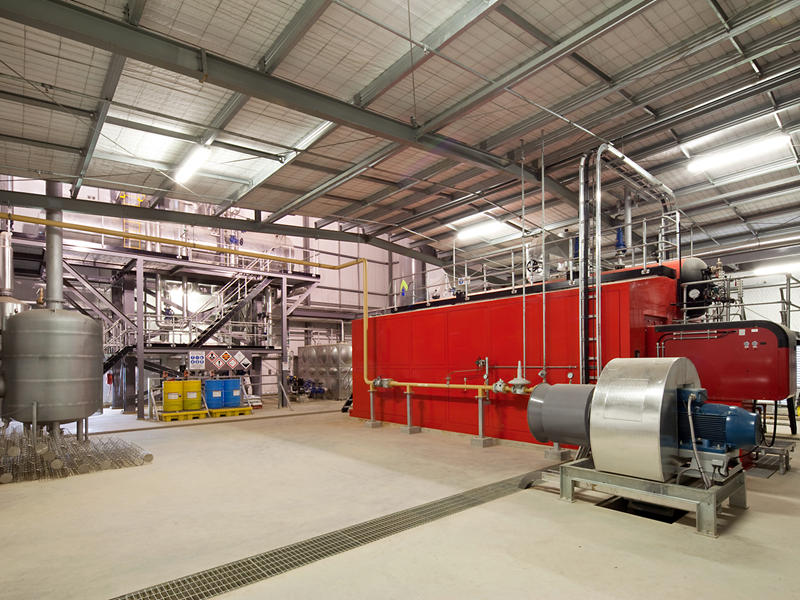 Energy Plant Solutions was asked by SKL8, project manager on a new dairy factory near Balclutha, to supply and install a high-pressure boiler supplying 20,000kg/hr of steam for a milk powder spray dryer.
The boiler plant is a dual fuel fired unit; the primary fuel being LPG with a secondary diesel fuel supply in case of the unavailability of gas. In the last 10 years there have been at least three major gas outages causing loss of supply for up to seven days on two occasions. Energy Plant Solutions recommended the dual fuel system to SKL8 and dairy processing firm Gardians. With a temporary diesel fuel supply in place, the boiler can be backed up and running by simply selecting the diesel fuel selection on the boiler control system's touch screen, so there is minimal downtime and no loss of production.
The Oilon dual fuel burner installed is controlled by a Siemens LMV control system. Individual actuators on the gas, oil, air and auxiliary head controls provide direct digital control of the dampers without the need for associated linkages as on conventional burners causing backlash preventing accurate and repeatable results impacting on combustion efficiency. Variable speed control on the burner force draft fan reduces power consumption and noise as the fan runs down to low speeds at times of low burner output. Oxygen trim is fitted to the boiler. This system is constantly sampling and adjusting the air fuel ratio to ensure optimum combustion regardless of air temperature and barometric pressure to levels as low as two percent residual oxygen. To put this in perspective, at seven per cent residual oxygen, this equates to excess air levels 50 percent over and above the perfect level required for combustion. With typical high excess air levels, fuel is essentially being wasted heating all the extra cold air.
The boiler is insulated with a three-layer system to maximise the thermal efficiency of the boiler plant, reducing the radiant losses from the boiler. This system provides cladding surface temperatures as low as 20°C. Infrared thermal images demonstrate just how effective this insulation is. This results in significantly reduced fuel consumption. The boiler plant can be shut off overnight and only drops to half operating pressure. Most boilers will flatten if left turned off overnight, only to have to burn addition fuel to get them back up to full operating pressure.
A large deaerator has been fitted with future additional boiler capacity in mind as the factory expands. This unit assists in removing oxygen from the boiler's feedwater to prevent corrosion and preheat the boiler feedwater to 105°C.
A flash steam recovery system installed captures a large portion of the energy lost from the boiler's automated blowdown system. Such blowdown systems are a common requirement on boiler plant for controlling the solid levels within the boiler; however the energy is often wasted. The flash steam from this blowdown system is captured and introduced into the deaerator to further assist in preheating the cold makeup water being introduced into the deaerator, reducing fuel consumption.
If a fault should occur the control system will text message the fault description to the people assigned to the boiler's supervision.
A first for New Zealand on a boiler plant of this size is a large counterflow condensing heat exchanger that has been installed by Energy Plant Solutions on the exhaust of the boiler, condensing the water vapour in the flue gas and preheating cold feedwater makeup from 10°C up to as high as 70°C. This water is then fed into the de-aerator where it is preheated to 105°C. The firm's boiler feed pump system sends water into the boiler without the requirement for a typical bypass system, required on boilers with conventional modulating feedwater systems. Normal bypass systems waste energy by circulating water back to the feedwater storage system at low loads to prevent pump damage. Energy Plant Solutions' system does not require such a bypass. A large portion of the work, as a result of the condensing heat exchanger and economiser, is achieved with the use of waste energy dramatically reducing fuel consumption.
This results in flue gas temperatures exiting the stainless steel flue ducting as low as 40°C. These gases being emitted to the atmosphere are as much as 230°C lower than other boiler plant installed in New Zealand, dramatically reducing operating costs and reducing environmental impact.