EPS – Winner of Buddle Findlay Large Business Award of EECA Awards 2014
An elegant solution turned a waste gas stream into energy – cutting fossil fuel use and CO2 emissions by nearly 90%.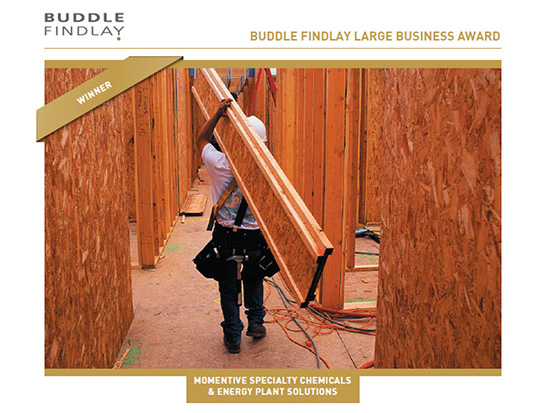 A manufacturer of specialised resins for the wood panels industry, Momentive Specialty Chemicals produces waste gas at a rate of 3,900 cubic metres per hour.
When looking for ways to reduce its environmental footprint and improve efficiency, Momentive sought to use the gas as boiler fuel and turned to Energy Plant Solutions, who devised a special combustion system.
In a neat self-sustaining cycle, the waste gas from the manufacturing process has itself become fuel, so the boiler needs no fossil fuel for continuous operation. The project has reduced light fuel oil use and CO2 emissions by close to 90%, while greatly improving air quality. Particulate (PM10) emissions are down 93% and sulphur emissions by 99%. Within Momentive the plant has set new benchmarks for fuel use per tonne of resin in Australasia.
The Judges said:
A fascinating story, in using a waste gas stream as energy. The project uses a whole value chain approach and converts a liability to an asset. An extremely impressive vision and execution.