From Waste to Waste Not – Air New Zealand Magazine May 2015
Once a waste by-product, clean hydrogen is now fuelling resin manufacturer Hexion's Christchurch plant, cutting fuel oil costs by over 90%.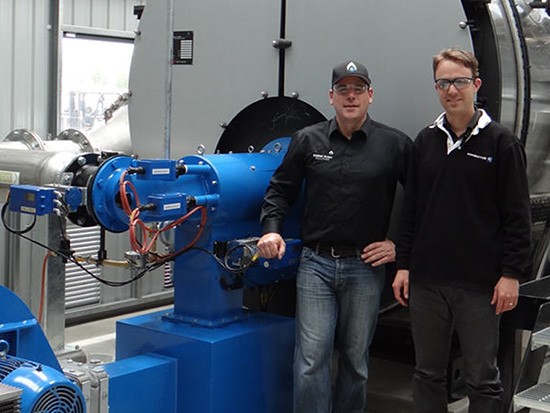 Hydrogen, when you can get it, makes a great clean fuel. Burn it, and the by-product is water. Carbon emissions can be cut dramatically and no dirty particles are released into the atmosphere.
For businesses, it's even better if you produce the hydrogen yourself as a by-product of another process.
That happy coincidence proved a boon for global resin manufacturer Hexion, formerly Momentive Speciality Chemicals, which has converted its Hornby, Christchurch plant to run on hydrogen and slashed its fuel oil consumption by more than 90%.
To create its resins and other products for the wood panels industry, Hexion has to convert methanol into formaldehyde. Silver is used as a catalyst in the process and a by-product of that is hydrogen – lots of hydrogen.
Around the world, Hexion has realised the opportunity to use the gas by-product to fuel its plants, but in New Zealand the numbers never stacked up, until recently, says project manager David Early.
"We knew how to integrate a boiler into the process and could manage that step pretty well," Early says. "What we didn't know was the best way to set up the boiler. You need a bit of expertise to make that happen."
Hexion partnered with Palmerston North based Energy Plant Solutions (EPS) to develop the best combustions system they could for maximum efficiency.
From inception the project took 18 months, with six months of planning before the boilers were ordered in November 2012. The new plant went live in May 2013 – bringing savings on stream eight weeks earlier than expected.
"It started paying itself back straight away," Early says. "We didn't have to wait on changes in efficiencies."
The environmental impact was also significant with 1,300 tonnes of CO2 emissions eliminated and a 99% reduction in sulphur emissions.
For Hexion, the journey isn't over. Early and his team are aiming to push its fuel oil savings up to 95% through fine tuning the new systems.
"Environmentally and economically it made so much sense to do it and the business is absolutely rapt it went so well."
By turning waste gas stream into energy, Hexion's story demonstrates that creative energy efficiency can turn a liability into an asset.